Revamped Vision and Mission along with new 3-year goals
On Jan. 11, ROC USA's multi-stakeholder Board of Directors approved new vision and mission statements for our grassroots cooperative development social venture. The new statements replace – although do not radically alter – the vision and mission on which we were founded in 2008.
Vision: Millions of homeowners and families thrive in sustainable, resilient, and mutually supportive resident-owned manufactured home communities.
Our vision is both bold – millions of homeowners – and clear – sustainable, resilient, and mutually supportive resident-owned manufactured home communities.
We are not trying to be all things to all people – we serve homeowners in MHCs, period.
We also think long-term, which means our work with communities involves both physical communities, operational strength, and social well-being.    
Mission: ROC USA supports homeowners in manufactured home communities to achieve affordable and environmentally sustainable self-governing cooperatives.
The ROC USA Board placed homeownership, affordability, environment, and self-governance at our core.  Put another way, our purpose is affordable and sustainable homeownership within democratically controlled neighborhoods.
These statements reflect our deep commitment to community-driven change. 
When I write that, I can't help but think of the thousands of forerunners in communities across the country who volunteered with vigor and have left a legacy that will last for generations.  One of the places I see the pride in their contributions is in the obituaries of ROC leaders.  These community leadership roles are vital to laying the groundwork and/or sustaining previously laid groundwork for current and future member-owners.
How can anyone not be inspired by the many good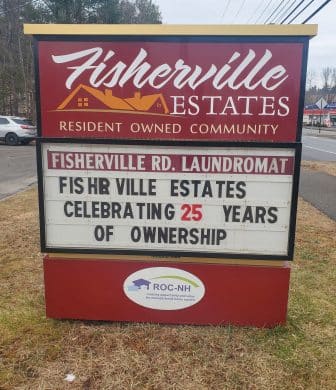 local leaders who are doing so much for their community?  
The ROC USA Board also set four goals for the next three years. They sit within a familiar frame:
expanding opportunities for resident ownership
improving and preserving the financial and environmental sustainability of existing ROCs
providing ROC leaders with the tools to be a driving force for positive change and collective community power
operating with a culture and commitment to quality of service, sustainability, accountability, and cohesion
There is more specific language to these and a set of follow-on objectives that we'll publish before long. But, in sum, these goals reflect our deep commitment to current and future resident owned communities. 
They also reflect our responsibility in helping community leaders both in their service to their local community and their leadership in support of all ROCs in their states and nationally. 
While our vision and mission and goals evolve, one thing has not changed – our tag-line: Better Together.  If 2022 didn't prove that, then let's lean in harder on Better Together in 2023 and take resident ownership to a new level of resiliency and affordability in 2023 and beyond!   
More Posts from Paul Bradley: