Clackamas River Community Co-op is investing in its surroundings thanks to Members' grant writing
Five years ago, Kahlei Howard was drinking her morning coffee and leafing through the newspaper when she saw an opportunity that would eventually lead to more than $1 million in grant funding for her ROC and its namesake Clackamas River.
"It was an ad for grant funding from the Water Environmental Services," said Howard from her home in Clackamas River Community Cooperative in Clackamas, Ore. "I always had an interest in business development so I thought, 'Hey we should write a grant for this.'"
Howard had a degree in fine arts, a career in nursing and a natural curiosity for research but no grant writing experience. At the time, she was also a Board Member for CRCC, a neighborhood of 76 manufactured homes that became a ROC (resident owned community) in 2012. She teamed up with Maury Wickman. 
Wickman, who moved to CRCC in 2018, in what he now calls "a fluke," had spent his career working for a national restaurant chain and representing artists in art galleries.
"I saw a real estate listing and I had just sold my house and put everything in storage," he said. "I never lived in manufactured housing much less a community like this," he said. "There was something about it that piqued my interest. I looked at it with the Realtor and wrote a check before I left."
The home he purchased was built in 1987 and was outdated, he said, but the land it sat on was "a diamond waiting to be excavated."
Wickman and Howard were the perfect excavators. And their focus was on a common area of greenspace called Huckleberry Park, located along the Clackamas River, that once had been used as a garbage dump.
While neither had ever written grants before, they were curious and tenacious enough to start. They co-authored the initial grant request that Howard found in the newspaper. And the following year, were awarded three more grants to preserve and restore the area in and around Huckleberry Park. The grant money helped clear debris, eradicate invasive species to protect the native species along the river, ultimately creating a healthy environment for fish like salmon and steelhead trout to thrive.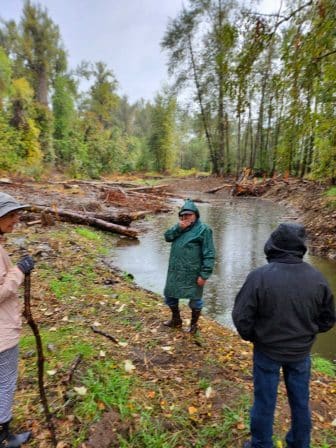 The grant money was also used to create a riverside trail system. CCRC began partnering with environmental organizations in the greater Portland area and even more grant funding was awarded. Since 2018, CRCC has been awarded nearly $80,000 in grants to restore, revitalize, and beautify Huckleberry Park and the banks of the Clackamas River while environmental organizations have been awarded an additional $1 million in grant funding for Clackamas River restoration projects, Howard said.
Clackamas River Community Cooperative is located about 12 miles from Portland, Ore., in northwest Oregon. Built on a rock quarry in 1986, the ROC has three levels to the community, with the bottom level containing 15 homes that sit on the bank of the Clackamas River. The Clackamas River is an 83-mile tributary of the Willamette River and is used by hikers, kayakers, whitewater rafters and bikers. It's sandwiched among lush greenery and is home to an array of wildlife.
It's also been a place Howard has always called home.
"I was born and raised essentially along the Clackamas River. I have spent summers on the river in my kayak. It's a very precious waterway," Howard said. "And I was raised in Oregon to appreciate how important the environment is. What keeps me going is doing research and getting projects facilitated. I was down there when we first started, with a machete and hacking to see where we were going to have trails. Now there is a mile of trail down there."
While Howard and Wickman were two ROC Members involved in securing grant money, the talents of many CCRC Members were utilized to help the community. Volunteers helped clear debris, a young high school student, bi-lingual in Spanish and English, helped translate a community survey for Members. A consortium was formed to brainstorm more ideas on community engagement, and they shared details with ROC Members through a community newsletter.
"What projects like this do is create an environment where people watch out for one another," said Wickman, who served as the treasurer and operations Member on the CCRC Board. "Our Members brought the talent and the hands to do all of this work. We couldn't have done it without everyone's help, and it's brought a lot of people together."
No one needs a background in grant writing or business to apply for funding, said Aubrey Sharp, technical assistance manager at Casa of Oregon. They just need a community willing to work together for the greater good.
"They have been successful in securing the money because they recognized that they have a responsibility as stewards of the Clackamas River due to their co-op being situated along this river," Sharp said.
Huckleberry Park is now a community gathering place where Members walk their dogs along the trails, anglers fish and Members hold community workdays to maintain and refresh the area. It was a lifesaver during the initial months of the pandemic.
"It has added such a livability to our property that can't be denied," Wickman said. "And during the lockdown, we had a private park and a healthy environment. It kept us all sane."