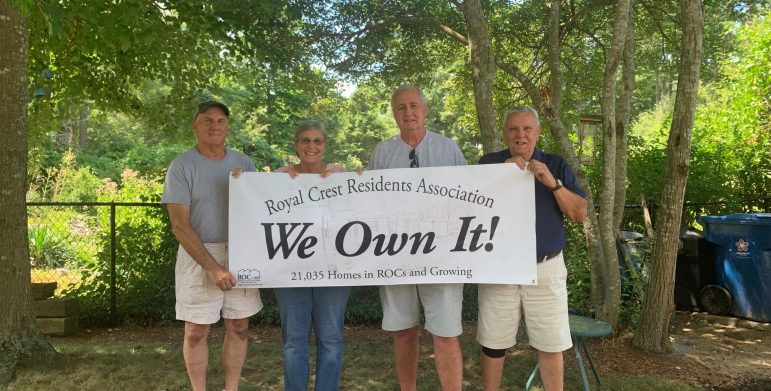 Wareham, Massachusetts – On July 28, Carol Carver went from leasing the land under her manufactured home to being the co-owner of a multi-million dollar piece of real-estate.
Two years ago, Ms. Carver's landlord sold the building they had lived in for decades, so she and her husband decided it was time to try and buy a home. Carver has worked at a social services agency for years and her husband is retired, but they found a place they could afford in Royal Crest, a manufactured housing community (MHC) in Wareham, MA. Then, this spring, Carol and her 154 neighbors formed a cooperative and competed with a private investment firm to purchase their community.
Now that they've closed the sale, Carver is not just a homeowner but a Board member of the Royal Crest Residents Association. As a Resident Owned Community (ROC), homeowners will democratically co-manage their neighborhood, reinvest funds into shared resources, and preserve affordability in the community for decades to come.
Royal Crest is a community of 144 manufactured homes. Sometimes called mobile homes, these homes are anything but mobile. Residents own their homes, but before this week they did not own the land underneath. Instead, they paid monthly lot rent to the owners of their community, the Tamagini family. Still, nearly 40 percent of residents have lived in Royal Crest for over 10 years.
Like many of the residents, the family also has a long history with the park, owning and operating it since the 1960s. Resident Al Latini said, "It was a family thing. I've known the owner for 40 years, he inherited the park from his father, so he always kept lot rents low." Latini's late mother moved to the park in 1985 and he moved in eight years ago to care for her. He now serves on the board as the Operations Director.
The affordability, security, and sense of family that both Carver and Latini appreciated came under threat this spring when the Tamaginis received an unsolicited offer from Legacy Communities. The Arizona-based investment company wanted to purchase the community for $12.1 million dollars.
Royal Crest is just the kind of community that catches the eye of investors. The town of Wareham is considered the gateway to Cape Cod, and the park itself is surrounded by cranberry bogs and huge pines. "It's like living in the woods, but it's also conveniently located," said Latini. "When my mom couldn't use the car, I got her a scooter and she could still get to the store." Royal Crest is close to jobs, transit, and many of the resources essential for the residents of this 55+ senior community. Wareham is a working-class town with an AMI of $66,000, but home prices have skyrocketed in recent years. The average home in Wareham sells for over $400,00, well out of range for Royal Crest residents, 90% of whom live at or below 80% AMI  and whose homes are valued between $60-150,000.
Royal Crest residents were given notice of the impending sale and had the chance to submit a matching bid due to the state's Right of First Refusal statute. They wanted to take action to preserve their community, but they had one question: Where would they find $12 million?
Legacy Communities owns 45 MHCs across the country and has been scooping up neighboring communities too. Of the thirteen MHCs in Wareham, Legacy has recently purchased three, and now owns 35% of the existing manufactured housing stock. Many private equity firms view MHCs as low-effort, high-yield investments and use government-backed loans to purchase communities. Legacy leases guarantee a minimum 6% increase to the base rent each year, or by the Consumer Price Index (8.6% in May 2022), whichever is greater. Most investor-owned parks will sell again at a steep profit within three to five years, throwing residents into yet another cycle of insecurity and disinvestment over which they have no control.
Many Royal Crest residents knew they couldn't weather the unpredictable rent increases they'd seen at nearby communities. Picking up their homes and leaving was cost prohibitive and unthinkable. "I mean, if Legacy bought us, we were just going to have to wait and see. I wanted to retire, but I don't know if that would be possible. I didn't even know we had a choice to do something else," reflected Carver.
"I had talked to a couple people and I was like, what are we going to do?" said Latini. That's when he saw a notice from the Cooperative Development Institute about Resident Owned Communities (ROCs). "We knew in order to make this happen we might have to raise rent a couple hundred now, but in the next year, and after that, we would be at or much lower than what they had at the Legacy parks next door." Latini was right; on average, lot rents in ROCs across the country rise at a quarter the rate of private or commercially-owned parks. A more affordable future was within reach.
Using a model pioneered by the New Hampshire-based non-profit ROC USA®, the Cooperative Development Institute (CDI) helped Royal Crest residents incorporate as a limited-equity cooperative. Instead of a private company or landlord, residents now own the land underneath their homes collectively. CDI also helped residents secure the $12.1 million in funding they needed to make the purchase. Royal Crest will be the 28th community in MA that CDI and ROC USA have helped become a cooperative, and residents will join more than 3,400 households in the state who are members of a ROC.
ROC USA President Paul Bradley praised the work of the homeowners at Royal Crest and the staff at CDI on a successful resident purchase.  "The benefits of land ownership are something most homeowners naturally take for granted," said Bradley. "So it's no surprise that owners of manufactured homes on rented land quickly rally and continue to step up when they're given the chance to purchase their communities. It's impressive."
The inflated housing market makes financing resident ownership transactions increasingly challenging. The Royal Crest purchase came together through collaboration between private lenders, state funds, and support from ROC USA's Community Development Financial Institution subsidiary, ROC USA® Capital. CDI staff and community leaders advocated with the state for affordable housing funds to be awarded for their purchase. The purchase will be the first time the Massachusetts Department of Housing & Community Development (DHCD) is offering Affordable Housing Trust funds to this sort of affordable housing endeavor. This represents a significant investment in MHCs as a source of permanently affordable housing in the Commonwealth and could set a precedent for future opportunities.
"We are thrilled to support the tenants of the Royal Crest community in their effort to become a Resident Owned Community and achieve long-term financial stability," said Housing and Community Development Undersecretary Jennifer Maddox. "Congratulations to the entire community and CDI for succeeding in keeping this property affordable and accessible for current and future residents. This is a major achievement and would not have been possible without the determination of Royal Crest's long-time residents."
Senator Marc Pacheco, who represents Wareham, was chief sponsor of the legislation providing the Right of First Refusal to residents of manufactured housing communities. Pacheco's district encompasses more manufactured housing communities than any other Massachusetts state legislator. "I am pleased to have worked with the residents of Royal Crest and DHCD to preserve these naturally occurring sources of affordable housing units. As investment companies swoop in to purchase communities and ultimately raise rents, we must work to ensure that financing is available to help resident's make the purchase and control their own destiny," said Pacheco. "DHCD has recognized that most manufactured housing communities play an integral role in providing affordable housing and is working to help keep these units online and affordable, this is a win-win" he added.
"The state's involvement at Royal Crest is a game changer," remarked Nora Gosselin, CDI's Market Development & Acquisition Specialist who helped guide residents through the purchase. "We need this kind of state support for this model of cooperative, affordable ownership to stand up to well-financed out of state companies who are getting more and more active here in Massachusetts."
As the Board signed papers this week to become the new owners of their community, Ms. Carver observed a lot of enthusiasm from her neighbors. "There's so many who are so excited about the whole ordeal. When you hear them cheering at meetings and even that the Town Council wanted this to happen– it's a good feeling."
Cooperative Development Institute staff will continue to walk alongside the Royal Crest Board of Directors, offering additional training, technical assistance, and mentorship as residents take on the task of managing this multi-million dollar property and stewarding their community for years to come.  Mr. Latini is already looking forward to the improvements they can make now that residents are in the driver's seat. "There's issues that we can now just go ahead and fix. I'm meeting with a tree guy this afternoon. There's 40-50 trees we can now take down so they don't fall on people's homes. We are moving forward."
Carol Carver is also looking towards the future, "We are so glad we did it, my husband and I. Just to know that moving forward things will be a little more controlled. With prices going up and up and up, we've got our finances squared away, we've got our little home."
About the Partners
The Cooperative Development Institute is a regional 501(c)3 non-profit founded in 1994 by co-op leaders in the Northeast. Cooperative Development Institute's mission is to work with people in the Northeast to create cooperative businesses and networks that grow a prosperous, equitable economy. We are transforming ownership of our economy, so all people can meet their basic needs. To date, CDI has supported the conversion of 52 manufactured housing communities to resident owned cooperatives and continues to provide ongoing technical assistance to residents managing their communities.
ROC USA (rocusa.org) is a non-profit social venture with a national network of 10 organizations (such as Cooperative Development Institute) and a national financing source for resident corporations. ROC USA® is sponsored by the Ford Foundation, NeighborWorks® America, Capital Impact Partners, Prosperity Now, and the New Hampshire Community Loan Fund. The Community Loan Fund, a non-profit community development financial institution in New Hampshire, leveraged its experience with 90 resident-owned communities at the time to launch ROC USA with national partners in May 2008. All told, ROC USA Network has helped 294 communities preserve 20,837 homes in 20 states.