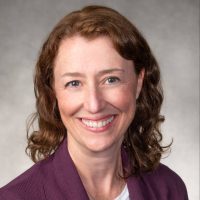 Executive Vice President
Training and Continuous Learning
Colleen joined ROC USA in March 2021 as Executive Vice President, overseeing the Training and Continuous Learning service unit. 
In her role, Colleen provides the vision for training and learning strategy and implementation at ROC USA, serves as primary thought-leader, defining a roadmap for program management, delivery, and quality assurance.
She also serves as a cross-functional partner to other ROC USA service units, ROC USA staff, Certified Technical Assistance Providers (CTAPs), and ROC Boards to define and deliver training and learning innovation across multiple modalities.
A veteran online educator and team leader who worked in higher education for 22 years, Colleen previously served as National Associate Dean of Faculty – Online at Chamberlin University. She is experienced in leading large teams in virtual/hybrid environments and in new program development and innovation, including project management and cross-departmental and cross-institutional collaboration.
Colleen obtained her Ph.D in Educational Psychology from Capella University in 2007 and also holds a M.S. in College Student Development and Administration from the University of Wisconsin-La Crosse and a B.A. in Psychology from Winona State University.
Colleen recently completed yoga teacher training and loves traveling and spending time outdoors with family, friends, and her three dogs.