CONCORD, N.H. – Nominations are open for anyone interested in becoming the next Mountain West Region Director for the ROC Association.
John Egan, the current Mountain West Director, said he will not be seeking re-election.
In the fall, resident owned communities in the Mountain West region will elect a fellow leader to directly represent ROCs on the ROC Association and the ROC USA® Boards of Directors. Nominations are being sent to each ROC Board now and can also be downloaded here. They are due Sept. 17.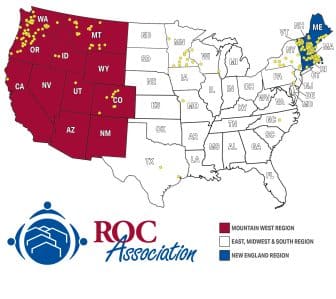 One director is elected from each of the three regions and serves a three-year term. The maximum any Director can serve is six years.
Directors take part in all ROC USA Board meetings four times per year, typically one in person and three virtually. Directors' expenses for all events are paid for by ROC USA. All that is required is a Director's time and dedication.
The ROC Association is a community-leader led movement. Membership is free and automatic to the more than 300 communities that are (or have been) supported by a ROC USA® Network affiliate.
The Association was started by two ROC leaders, Natividad Seefeld of Park Plaza Cooperative in Fridley, Minn. and Lois Parris, then of Lakes Region Cooperative in Belmont, N.H., both former appointees to the ROC USA Board of Directors. In 2013, the Association held its first national elections and since then, ROC Boards nationwide have had the opportunity to cast a vote for a candidate from each region every two years.
In 2020, the ROC Association launched two ROC Association Committees, the Outreach & Education Committee and the Policy & Advocacy Committee. ROC Leaders from across the country volunteer their time to expand the work of the ROC Association.
Find information about the election here.