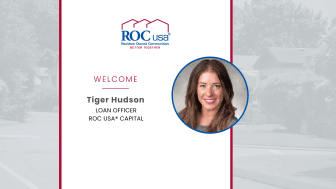 CONCORD, N.H. — ROC USA® is pleased to announce the expansion of the ROC USA® Capital team with the hiring of Tiger Hudson as loan officer.
"Tiger will be handling the bulk of ROC USA Capital's loan underwriting and origination activities in the Western United States, from meeting with newly forming resident co-ops during the due diligence phase to coordinating loan closings," said Kevin Porter, vice president of loan originations for ROC USA Capital. "Tiger brings a strong background in economic development and multifamily underwriting. Moreover, she is a very good fit for the culture of ROC USA Capital, with her thorough attention to detail while at the same time approaching new opportunities creatively and enthusiastically. Despite the fairly unique business model of ROC USA, Tiger has really hit the ground running and is quickly grasping the nuances of our work. We're all very pleased to have Tiger on board, and she will be an important part of our team as we continue to grow and expand."
Hudson is looking forward to expanding loan products to new western markets and helping find creative ways to finance communities in high-demand areas. Hudson, who will work from her Carbondale, Colo., home, worked for the U.S. Department of Housing and Urban Development's Multifamily West Production Division as a Senior Underwriter in San Francisco. She has also worked with lending institutions to underwrite federal loan insurance for multifamily apartment buildings.
"I'm excited to be a part of the ROC USA community," Hudson said. "Everyone I've met has a passion for affordable housing and a commitment to helping our communities succeed. This will be my first experience at a CDFI, and it is such a refreshing change of pace to be financing loans for resident-owners with limited access to capital rather than developers or investors. The impact of ROC USA's work is profound, and I can't wait to contribute to our mission by supporting loan underwriting and closing and turning ownership into a real option for thousands of low-income Americans."
Hudson has served as an Economic Development Peace Corps Volunteer in Choate, Peru for two years and looks forward to dusting off her Spanish skills with ROC homeowners. She is a graduate of Cornell University, with a degree in urban and regional studies and a degree in economics. And in her spare time, she is an avid snowboarder and mountain biker.
Contact Information:
Tiger Hudson, thudson@rocusa.org