23 Beaver State communities now preserved as ROCs
LAFAYETTE, Ore. – Hard work, collaboration and a ton of tenacity were key to the community purchase of Pioneer Park Residents Community Cooperative.
"It was like a huge weight came off of me," said Terri Popejoy, Board President of Pioneer Park, remembering the moment learned that the purchase was official.
Pioneer Park homeowners worked alongside CASA of Oregon and ROC USA® to purchase their neighborhood about 35 miles southwest of Portland. On May 23, their hard work paid off when the homeowners' cooperative purchased their manufactured home community for $13.1 million.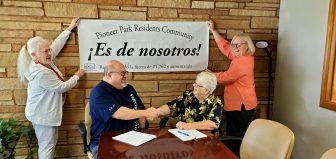 "I had tears of joy. It meant that the work we did to accomplish this task had succeeded and 104 families could have peace of mind knowing their homes are safe," Popejoy said "Knowing we have saved so many on Social Security and/or disability is a wonderful feeling and warms my heart."
Jodi Baiyat, National Acquisition Director for ROC USA, said homeowners have been wonderful to work with since they approached ROC USA to help them purchase their community.
"It's been a solid green light from this wonderful community from the beginning," Baiyat said. "The sellers had a generous offer and didn't think the residents could do it, but when given the chance, these residents never looked back. "Even when facing the prospect of a $200 per month increase to afford the purchase, which literally caused tears on some faces, the community voted unanimously to buy. Best of all, the rent increase was unnecessary due to a generous grant from the state of Oregon and favorable financing from the Network for Oregon Affordable Housing (NOAH) lenders, both of which were fabulous to work with."
"Having ROC USA assist us every step of the way provided us with the knowledge and confidence to complete the task," said Robin Zimmerman, Board Vice President. "We are now secure in knowing we are in control of our neighborhood's destiny."
Pioneer Park Residents Community Cooperative is a 104-site neighborhood developed in 1996. The developer's family managed the community for many years and during the conversion process, provided new Board Members with valuable assistance, Baiyat said. ROCs preserve an important source of unsubsidized affordable housing for working families, seniors, and people with lower incomes.
"When resident leaders of Pioneer Park first approached CASA, we did not have a trained project manager or organizer to assist with the park purchase," said Rose Ojeda, Manufactured Housing and Cooperative Development Center Director at CASA of Oregon, ROC USA's affiliate in Oregon. "We weren't ready to take on the project, but the resident leaders pushed back and asked if we could involve ROC USA. We quickly brought ROC USA to the table and decided we could make this work. ROC USA led the effort and CASA advised throughout the process. It was a win-win for everyone, and we are grateful for the partnership and support."
Pioneer Park Residents Community Cooperative is the 23rd resident owned community in Oregon, with a total of 1,537 homes preserved across the state. There are 309 ROCs in 21 states across the nation.