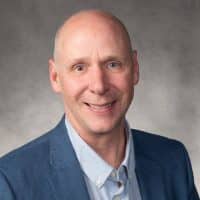 Paul Bradley founded ROC USA® in 2008. Throughout his 30 plus-year career, Paul has had direct experience with all aspects of community ownership.
Paul began working with homeowners in manufactured home communities in 1988 as a co-op organizer for the New Hampshire Community Loan Fund, eventually serving as Vice President for Manufactured Housing at the Community Loan Fund. During his tenure in that role, he managed the growth of resident ownership from eight to 88 communities. In 2001, he also led the development of the Community Loan Fund's entrance into retail single-family lending in resident-owned communities, a program that won the 2009 Wachovia NEXT Award for Innovation in Community Development Finance.
As President of ROC USA, Paul provides direction and leadership, furthering the achievement of the organization's philosophy, mission and strategy. Today, ROC USA supports a 21-state network of more than 300 Resident Owned Communities that are home to more than 21,500 low-income households through a Network of affiliates and a national team. ROC USA is scaling an enduring community-based structural solution that works – limited equity co-op ownership of "mobile home" communities. And its U.S. Department of Treasury certified Community Development Financial Institution, ROC USA® Capital, has loaned $400 million to more than 100 limited equity co-op communities.
Paul received a bachelor's degree in economics from the University of New Hampshire, and in 2007, he graduated from Achieving Excellence in Community Development, a joint 18-month Executive Education program with NeighborWorks® America and Harvard University. In 2011, Paul was selected as an Ashoka Fellow and in 2013, he was selected as the Carsey Institute Social Innovator of the Year. In 2014, he was awarded the Jerry Voorhis Memorial Award by the National Association of Housing Cooperatives. In 2018, Paul was inducted into the Cooperative Hall of Fame, one of the highest honors in the cooperative sector.
Paul also writes his own blog and interviews community leaders and co-op advocates as cohost of the Ownership Matters podcast.
Paul lives in his hometown of Concord, N.H., with his wife Martha, and two daughters. He is very close with his mother, who lives in a ROC! Outside of ROC USA, Paul enjoys telemark skiing, mountain biking, gardening, and playing cribbage.
The work by co-op leaders, the ROC Association Board and its committees, the TA affiliates, and ROC USA teams – along with a multitude of partner organizations – is helping to scale wide and deep and produce results for low- and moderate-income homeowners.
Read More »