2 people killed, nine homes destroyed in Washington blaze
LAKEWOOD, Wash. – Dave Huskey was on his way back from a Friday afternoon shopping trip when he, his wife and their 22-year-old granddaughter heard a traffic alert come across the radio.
"They blocked off the road and were diverting traffic," said Huskey, the Board President for Bob's and Jamestown Homeowners Cooperative. "When we got closer, we saw that there was a fire. We sat out there for three to four hours waiting to get back to our home, and my granddaughter, who is quadriplegic, couldn't go anywhere. When we finally made it back, the damage was done. Nothing left but steel frames."
On Friday, Aug. 4 a fire ripped through the resident owned manufactured home community, killing two men and destroying nine homes and multiple cars. Three other homes were also damaged in the fire and three pets were killed.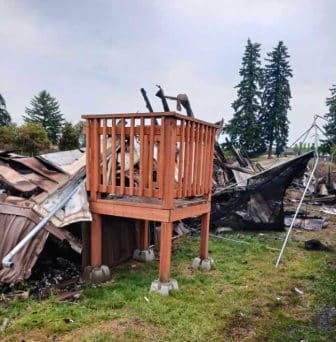 The two men who died included an older man who was a life-long resident of the community and a man in his 20s who lived with his stepfather in a nearby home that was unaffected by the fires. When the fire started, the younger man attempted to save the older man from his home but ultimately, they both died in the blaze.
Investigators believe a brush fire caused the blaze that ripped through the homes in Bob's and Jamestown community and continue to investigate the cause.
A fund has been created through Cooperative Development Fund and 100 percent of the donations received will be used to help with recovery efforts in the co-op, said Victoria O'Banion, marketing and acquisitions specialist for ROC Northwest, a program of Northwest Cooperative Development Center.
"This has greatly impacted Bob's and Jamestown Homeowners Cooperative, its business functions as well as the nine families' lives," O'Banion said. "This will take substantial efforts for Bob's and Jamestown to rebuild after the devastating loss of nine homes in the community."
Click here to make a donation and scroll to click on "Bob's and Jamestown Homeowners Co-op, Lakewood, WA" in the Fund Designation list. Funds will be raised through Dec. 1., and so far, $700 has been raised.
The City of Lakewood and LASA (Living Access Support Alliance) are coordinating services to help the displaced families, many of whom are still in shock over the trauma of the fire and living day to day with friends and families. None of the nine homeowners who lost their homes was insured.
"There are a lot of outside agencies standing by to provide assistance," said Dave Bugher, assistant city manager and community and economic development director for the city of Lakewood. "And there are a lot of moving parts."
O'Banion says the recovery effort will be long and they don't expect to replace homes in the community for at least a year.
"We have an entire community that has experienced a disaster and a crisis, and they will be affected for the foreseeable future," she said. "There are so many needs, and this fund will help the community and the families."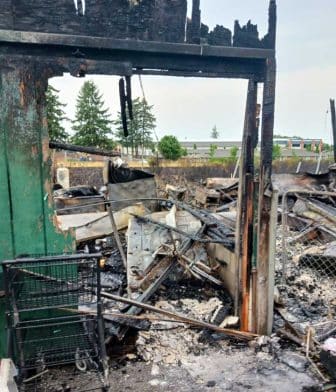 It's been more than three weeks since the fire and cleanup has not begun because of possible asbestos issues. Huskey is hoping that asbestos testing will happen Sept. 1., and the debris and ash is removed soon after. He bought an orange fence to cordon off the area along with "Danger: Keep Out signs," and he said everyone so far has been respectful and not crossed the barrier. Bob's and Jamestown is a relatively new ROC. On Sept. 2, 2022, homeowners purchased the 62-home manufactured home community located about 10 miles south of Tacoma. And while no one living in the community could have imagined the tragedy that unfolded earlier this month, Members have stepped up to help quickly.
"This Board is full of leaders for the community," said Janet Morrell, cooperative development specialist for ROC Northwest who works with Bob's and Jamestown. "They are resilient and able to communicate information and get through this."
While the road ahead is going to be tough, Huskey said neighbors are helping each other, communicating more and seem more connected than ever. And he is hopeful and optimistic that the community will be whole again.
"I'm always the glass if half full kind of a person," Huskey said. "When life throws roadblocks at us, we just have to keep going over them, and we will."