Missouri ROC drives engagement with unveiling of new gathering space at Oktoberfest celebration
LIBERTY, Mo. – On a crisp fall Saturday in early October, more than 100 homeowners from Liberty Landing Cooperative gathered to celebrate Oktoberfest and their new community space.
In an area recently cleared of trees, they celebrated on two new concrete pads under two covered patios – one red and one blue – with picnic tables below, grills nearby and a fire pit centered between.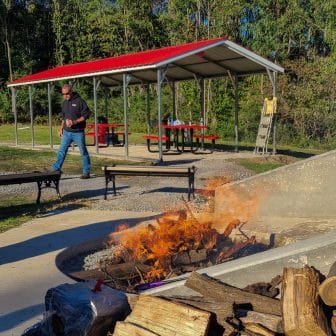 "We have a lot of trees in our community and a nice pool," said Kristi Peterman, Board Vice President for Liberty Landing, adding that the trees dropped debris that was clogging some of the pool equipment. "So we decided to clear about 100 feet back and in doing that, we decided to create a family recreation area in that space."
With a social committee budget of $4,000 per year, the Board also decided to plan four large celebrations (with a budget of $1,000 per event) for Liberty Landing homeowners, to encourage connection and have some fun. The Oktoberfest party launched as the community's first big event. To spread the word, they posted the information on their Facebook page, in the community mail kiosk and via email.
"We had the whole event broken down, games, food, so if you couldn't come to all of it, you could come to some of it," Peterman said. "Our goal was if you can get people to come out and meet other people, then they don't feel so weird about coming to a meeting. And when you put out a call for volunteers, they might be more apt to volunteer."
LEARN MORE: Check out Peterman's easy event planning tips!
They blew up a rainbow-themed bounce house that the cooperative had purchased and set up carnival games – a ring toss, lollipop pull and two jars of jellybeans with chances to guess how many were inside (505 in one jar and 480 in the other.). They streamed music from the projector/blow up screen the co-op had also voted to purchase. They played horseshoes and corn hole and the prizes included gift cards donated by local businesses. They served German-inspired meals, bratwurst and hotdogs, spaetzle and macaroni and cheese, giant pretzels with warm cheese sauce and apple streusel and black forest cake. 
"The number one thing our residents wanted to do was have specialty-food themed events," Peterman said. "So we made sure to have the Oktoberfest-type foods with German music and we also roasted marshmallows, too."
The event was a lot of work and a lot of planning, but it drew a large crowd – nearly 100 of the 184 households. Peterman said Board Members were intentional about using the celebration as a chance to create more connectivity and community in the ROC, which homeowners purchased in December 2021. Board Members sought out new homeowners, volunteered to work the games, gather firewood for the pit and network with other community members. When they ate dinner, they each chose to sit next to someone they had never met before.
"These events make people feel welcome," Peterman said. "A community is not a neighborhood. A neighborhood is a lot of homes near each other. A community is a place that pulls together where everyone knows each other."
Want to plan a large social event for your ROC? Follow Kristi Peterman's five easy tips:
Find out what your residents want to do.  Nobody will show up if it's not something a majority of folks are interested in. 

Set a budget.  What can you afford?

Brainstorm ideas and pare it down to what you can actually execute.    

Hype the event in every way possible.  Social media, website, bulletin boards, community meetings, Board meetings, yard signs, door hangers, however you communicate to your residents.  

Ask for volunteers to help.  It seems counterintuitive to hype before you get volunteers, but we found that the more we hyped the event, the more people wanted to help.